Molentargius Natural Regional Park, established in 1999, is a wetland of international value among the most important in Europe, an ideal habitat for many animal species, including flamingos. The Park is a humid area extending over an approximately 1600 hectare territory characterized by the presence of both fresh and salt water basins, separated by a mainly dry plain named Is Arenas.
Birds have always been the most studied animals in the Molentargius ecosystem.
Cormorant, Black-crowned Night-Heron, Cattle Egret , Little Egret, Purple Heron, Common Shelduck, Heron, Western Swamphen also known as Sultan Bird are just a few bird species present in the park. The Pink Flamingos are the major attraction for tourists and locals who go to the Park to admire and take pictures of them. Pink flamingos have been living on the island for generations. The wetlands and poorly populated areas are an ideal environment for these elegant birds.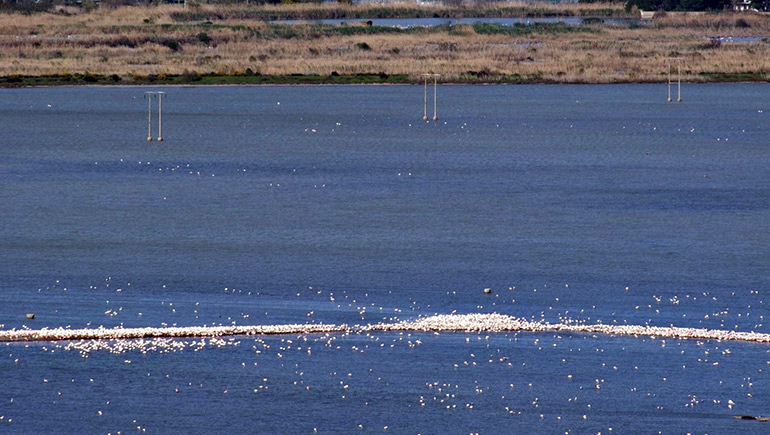 It is not difficult to see them during their journeys in the sky, as they migrate from one area of Sardinia to another, in search of more humid areas and crustaceans to taste. They usually move in rather large groups, which could make you think of them as basically sociable birds. In reality, they are very shy and fearful, and it takes very little to scare them off.
One of the most exciting periods of the year to observe the pink flamingos in Sardinia are the first weeks of June, when these beautiful birds decide to stop and nest, dyeing the entire area into a pink colour.
The Park of Molentargius is the ideal place to live an experience in close contact with nature.
Thanks to the many services available, visitors can enjoy walking and cycling routes and take part in boat trips along the waterways of the Park.
For any further information or to book a visit, please do not hesitate to contact us at: +39 070/37919201 / or +39 070379191.